People often take their feet for granted, but when something goes wrong you want to be sure that it is your pharmacy they turn to for help and advice.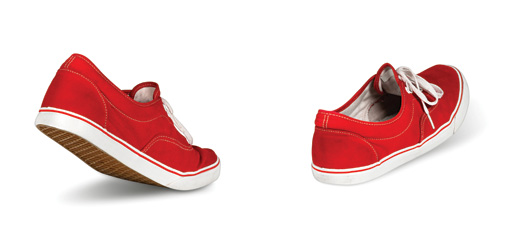 Learning objectives
After reading this feature you should be able to:
Advise customers on avoiding foot problems
Recognise and treat common foot ailments
Know when to treat a problem and when to refer to a podiatrist

Feet should be of great interest to pharmacy teams. When something goes wrong, few people think about getting a doctor's appointment and often view a trip to a podiatrist as a last resort. Instead they head to a pharmacy footcare fixture, often to be baffled by what they find there. What they need is someone who can recognise descriptions of common foot complaints and recommend suitable products...
Fungal foot infection
This type of foot infection, caused by dermatophyte fungi such as Trychophyton rubrum, first appears as athlete's foot and later as fungal nail infection (onychomycosis). It is estimated to affect 35 per cent of the adult population, with rates higher in the over-60s, Dr Ivan Bristow, podiatrist, University of Southampton, told the Primary Care Dermatology Society spring meeting. Prevalence rates strongly correlate with the duration of winter, he added.
As mentioned, dermatophyte infection is often experienced first as athlete's foot (tinea pedis i.e. itching and maceration of skin between the toes), but while treatment with antifungal agents can eliminate the infection, it often returns. The reservoir for infection is usually on the soles of the feet. Very dry skin on the soles with white chalky lines is indicative of chronic fungal infection.
Dermatophyte infection of the feet is often transferred to the groin where it causes tinea cruris ('jock itch'). This is because particles of skin debris are carried to the site when underpants are put on, Dr Bristow told the meeting.
Tinea pedis is an important risk factor for cellulitis (bacterial infection) of the lower limbs because the broken skin between the toes provides a portal for infection. Two-thirds of cases of recurrent cellulitis of the lower limbs can be managed by treating fungal infection of the feet, Dr Bristow said.
Tinea pedis can be treated effectively using an azole for four weeks or terbinafine for one week. Azoles are fungistatic; terbinafine is fungicidal. A single-dose treatment (Lamisil Once) is available. This has to be applied to the soles and sides of both feet and left in place for 24 hours. The evidence for effectiveness of products based on undecylenic acid is weak.
Fungal foot infection almost always returns, often as a result of reinfection from contaminated shoes or clothing. To reduce the risk of reinfection, old socks and shoes should be thrown away, and shoes that are being kept sprayed with terbinafine.
To further minimise risk, people should be advised to dry between their toes after washing, to not share towels and to try to avoid occlusive footwear. Again, spraying the inside of shoes with terbinafine spray should be considered. Keeping tinea pedis at bay with regular prophylactic antifungal treatment could help to prevent the development of fungal nail infection (see below).


Key facts
Very dry skin on the soles of the feet with white chalky lines is indicative of chronic fungal infection
Treatment for fungal nail infection takes months rather than days
HPV vaccination for cervical cancer does not affect the foot virus, which is a different strain
Fungal nail infection
This affects about 10 per cent of the adult population. Infected nails become thickened and discoloured and, eventually, crumbly. Fungal nail infection is the late phase of infection, which will have started many years earlier as athlete's foot and eventually infected one or more nails when damage provided a site of entry for the fungi.
It can be difficult to distinguish fungal nail infection from non-infectious causes, such as repeated trauma or psoriasis. Moreover, treatment takes months rather than days. For these reasons guidelines recommend laboratory diagnosis by culture of nail clippings and subungual debris.1 This can take several weeks but a new immunoassay is now available to podiatrists that can give a diagnosis in five minutes (fiveminutefungus.com).
Oral treatment with terbinafine or itraconazole has a 70 per cent success rate. Topical antifungals are difficult to use effectively as it can be tricky to get the drug to the site of infection in the nail bed. Antifungal nail polish (amorolfine) can be effective but has to be applied regularly over at least six months, so good compliance is essential.


Reducing the thickness of the nail before treatment improves drug penetration and always improves the outcome of treatment. This can be achieved by using a file or emery board across the surface of the nail, but some nails can be too thick to tackle in this way. Podiatrists can reduce nail thickness using specialised equipment. Two other approaches that improve drug delivery to the site of action are:

• 40 per cent urea to remove the damaged (infected) parts of the nail followed by topical treatment with an azole or terbinafine (e.g. Canespro)
• Fenestration: the drilling of small holes through the nail, which can be undertaken by a podiatrist, followed by application of terbinafine spray.
Laser treatments are no better than other treatments but are very expensive, Dr Bristow noted. There is also some evidence for the effectiveness of a pine resin although it has to be applied daily for nine months.2
Plantar warts
Plantar warts (more commonly known as verrucas) occur on the soles of the feet. They can be small, single and cause mild discomfort, or multiple, extensive and cause serious problems. Caused by the human papilloma virus (HPV), plantar warts can be difficult to treat because the skin on the sole of the foot is thick and difficult to penetrate.
Plantar warts affect 7-12 per cent of the adult population and there is a 40 per cent lifetime risk of infection. In children they are normally shed within two years but in adults they can persist for longer.
Plantar warts can be self-treated using over-the-counter products or they can be managed by a podiatrist. Both salicylic acid treatment and cryotherapy (using liquid nitrogen) are effective but the cure rates are sometimes disappointing and many other approaches have been tried.3 OTC freezing treatments are based on propane and dimethyl ether. However, they do not get as cold as liquid nitrogen and as a result are less likely to be effective.
Microwave treatment delivered by a podiatrist is effective, Professor Bristow said, producing a 76 per cent clearance rate and good pain relief. The technique relies on localised hyperthermia (44°C) that induces heat shock in HPV. This is enough to heat the infected cells without damaging surrounding tissue. It should be noted that HPV vaccination (for cervical cancer) does not affect the foot virus as the vaccine is directed against different strains of the HPV virus.
References
1. Ameen M et al. British Association of Dermatologists' guidelines for the management
of onychomycosis 2014. Br J Dermatol 2014; 171: 937-958
2. Sipponen P et al. Natural coniferous resin lacquer in treatment of toenail onychomycosis: an observational study. Mycoses 2013; 56:289-296
3. Sterling JC et al. British Association of Dermatologists' guidelines for the management of cutaneous warts 2014. Br J Dermatol 2014; 171: 696-712
4. Diabetic foot problems: prevention and management. NICE guideline [NG19]
nice.org.uk/guidance/ng19