APTUK President and Vice President - Nominations 2018
APTUK is seeking nominations from Pharmacy Technicians with the drive, ambition and commitment to lead the Association and deliver our strategy - Leading Pharmacy Technicians to deliver professional excellence for patient centred care
Are you passionate about Pharmacy and the Pharmacy Technician profession?
Do you have the time, energy, enthusiasm and skills to fulfil this leadership role?
Then your Professional Leadership Body needs you!
Due to the current President's term of office coming to an end, nominations are encouraged and welcomed for the post of President and Vice President.
The President is a Director of APTUK and is the lead ambassador for the organisation. They are responsible for providing strategic professional leadership by working with the Board of Directors and other stakeholders to establish long term goals, strategies, annual business plan and policies. The role of the President bears significant responsibility, accountability, and authority within the organisation to ensure plans are developed and implemented and leadership and direction is provided to the Directors, National Officers and Associates.
The Vice President is also a Director and is responsible for assisting the President in the operation of APTUK, the implementation of strategic goals and the delivery of the annual business plan.
The President, Vice President and Board of Directors are responsible and accountable for APTUK business governance as per Limited by Guarantee, Memorandum and Articles and Standing Orders.
Term of office is usually for a period of two (2) years, however for the 2018 nominations/elections, appointments will coincide with and support the implementation of the future structure of APTUK and therefore the term will end 30th April 2020.
Nomination Process
The President and Vice President can only be nominated by any two paid up subscription members (Full Members, Fellows of the Association, Associate Members and Pre-registration Trainee Pharmacy Technicians Members)
Nominees must meet the following criteria:
Be a full and paid up subscription member of APTUK.
Be a Pharmacy Technician currently registered with GPhC or be a Pharmacy Technician working in Northern Ireland who meets the requirements for registration with the GPhC.
Submit a nomination paper signed by two paid up subscription members (full member, who are supporting the nomination.
Submit a signed nominee statement
Submit a current CV
Receive a satisfactory reference
The nomination period is open from Friday 14th December 2018 up to Sunday 6th January 2019.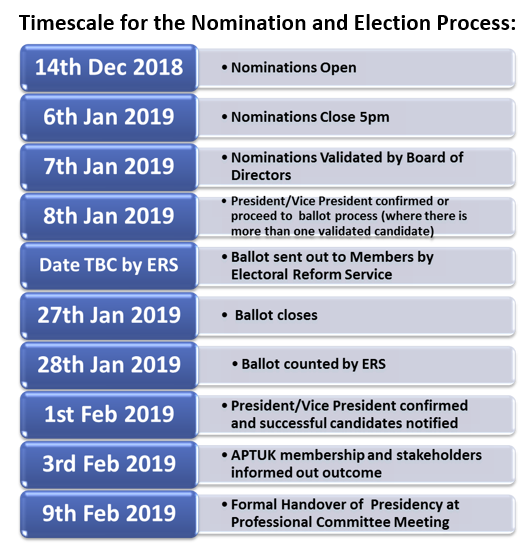 Nomination Form
Nomination forms (Microsoft Word document version) can be requested from the Director of Human Resources at humanresources@aptuk.org
Completed nomination forms should be sent by email to the Director of Human Resources at humanresources@aptuk.org by 6th January 2019.
Nomination forms received will be acknowledged by return email to the nominators and the nominee.
For further information please contact humanresources@aptuk.org or president@aptuk.org