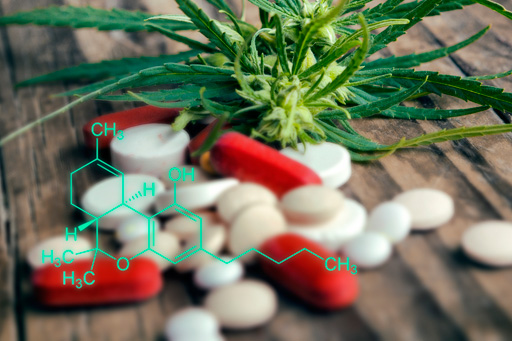 It seems that well over 2,000 years after a Gushi shaman was buried with his stash, cannabis and cannabinoids are set to move into the medical mainstream.
Key facts
The cannabis plant contains more than 400 chemicals, many of which are biologically active
Cannabis-derived medicinal products are to be available on prescription by the autumn
Frameworks and clinical guidelines will ensure they can be prescribed safely but not traded illicitly
Some 2,700 years ago, people from the Gushi culture buried a shaman in the Gobi Desert, along with bridles, archery equipment, a harp, and a large leather basket and wooden bowl filled with 789g of cannabis. It is not known if the shaman used cannabis for its psychoactive, prophetic or pharmaceutical effects1 – or all three – but, obviously, the Gushi valued cannabis. We still do.
Today, cannabis is the most widely used illegal drug in the UK. According to the Crime Survey for England and Wales, 6.6 per cent of people aged between 16 and 59 years of age (about 2.2 million people) used cannabis in 2016/17.
In July, Home Secretary Sajid Javid decided to reschedule cannabis-derived medicinal products to allow their use on prescription by the autumn. According to the Home Office, "senior clinicians will be able to prescribe the medicines to patients with an exceptional clinical need".
The Department of Health and Social Care (DHSC) and the Medicines and Health products Regulatory Agency (MHRA) will clearly define cannabis-derived medicinal products. Clinicians will be able to prescribe only those products that meet this definition.
In the meantime, clinicians can apply to the independent expert panel on behalf of patients with exceptional clinical needs. According to the current regulations, clinicians "would be expected to show that there is no other lawful medicinal product (whether licensed or not) that would meet the specific need of the patient".
Of course, cannabis-based products are already available on dispensary shelves. The synthetic cannabinoid nabilone is approved to control nausea and vomiting caused by cancer chemotherapeutics. Nabiximols (a mix of delta-9-tetrahydrocannabinol [THC] and cannabidiol) is licensed to alleviate moderate to severe spasticity in people with MS, and cannabidiol-containing oils, food and drinks are becoming increasingly popular in health food retailers.
Complex mix
The cannabis plant contains more than 400 chemicals, many of which are biologically active.2 Researchers initially focused on THC, the main psychoactive component, but more recently, they have explored other cannabinoids, such as cannabidiol, which accounts for up to 40 per cent of the plant extract and does not cause the euphoria induced by THC.2
Cannabinoids modulate the endogenous 'endocannabinoid system'. Disturbances here could contribute to, among other diseases, migraine, fibromyalgia, IBS, depression, schizophrenia, MS, Huntington's disease, Parkinson's disease, anorexia, chronic motion sickness and failure to thrive in infants.3
Cannabinoid type 1 (CB1) receptors, for example, are expressed throughout the central nervous system (CNS)3 and seem to modulate memory, emotion, pain and movement.2 Several other cells – including adipocytes and hepatocytes, connective and musculoskeletal tissues, and the gonads – also express CB1 receptors.3
The CNS may also express CB2 receptors but they are principally associated with immune cells.3 Cannabidiol binds to CB2 receptors, which seems to be one of several pathways through which this cannabinoid reduces inflammation.
Cannabidiol also appears to stimulate synaptic plasticity and facilitate the formation of new nerves (neurogenesis), which might explain its benefits on, for instance, anxiety and depression.2
Heart-rending
The recent spate of high-profile and heart-rending stories of children with uncontrolled seizure disorders brings home cannabinoids' benefits in some people with epilepsy. A growing body of evidence suggests that cannabis-based drugs may reduce the frequency and severity of seizures in the 20-30 per cent of people who are resistant to conventional anti-epileptic drugs.4
For example, a systematic review of six randomised controlled trials (RCTs) and 30 observational studies reported that adjuvant cannabidiol may reduce seizure frequency in paediatric-onset drug-resistant epilepsy.4
The relatively large number of observational studies and the widespread use of self reports could lead to bias but cannabidiol increased the likelihood of showing at least a 50 per cent reduction in seizure frequency compared to placebo by 74 per cent.
Patients taking cannabidiol were also more than six times more likely to be seizure-free than those who were taking placebo.4
Mixed evidence
Evidence supporting cannabis-based medicines in other indications is more mixed. A systematic review of 79 RCTs involving 6,462 people assessed cannabinoids including nabilone, nabiximols, cannabidiol and cannabis. Cannabinoids seemed to improve symptoms in most studies, although the differences did not always reach statistical significance.
The authors found that "moderate-quality evidence" suggested that cannabinoids helped chronic pain and spasticity. "Low-quality evidence" suggested that cannabinoids alleviated nausea and vomiting due to chemotherapy and improved sleep disorders, Tourette's syndrome and weight gain in people with HIV.5
Cannabinoids, however, also seem to be associated with an increased risk of several shortterm adverse events, such as dizziness, dry mouth, nausea, fatigue, somnolence, euphoria, vomiting, disorientation, drowsiness, confusion, loss of balance and hallucinations.5
Against this background, the Government asked experts to examine the medicinal and therapeutic benefits of cannabis and cannabis-based products. In the first part of the review, the chief medical officer, Professor Dame Sally Davies, concluded that "there is evidence that medicinal cannabis has therapeutic benefits".
The Advisory Council on the Misuse of Drugs (ACMD) then considered the appropriate schedule for cannabisderived medicinal products by balancing "harms and public health requirements".
The ACMD recommended that products that meet a clear definition of a cannabis-derived medicinal product should be in Schedule 2 of the Misuse of Drugs Regulations 2001. The DHSC and the Home Office will develop "frameworks and clinical guidelines to ensure that cannabis-derived medicinal products can be prescribed safely to patients but cannot be traded illicitly".
References
1. Journal of Experimental Botany 2008; 59:4171-4182
2. Surgical Neurology International 2018; 9:91
3. Pharmacy and Therapeutics 2017; 42:180-188
4. Journal of Neurology, Neurosurgery & Psychiatry 2018; 89:741-753 5. JAMA 2015; 313:2456-2473