This handy 10-minute clinic is designed to act as a quick reference guide that will help you when advising customers on the head lice category. The flowchart below will lead you through the decision-making process to help you respond to customer queries
At a glance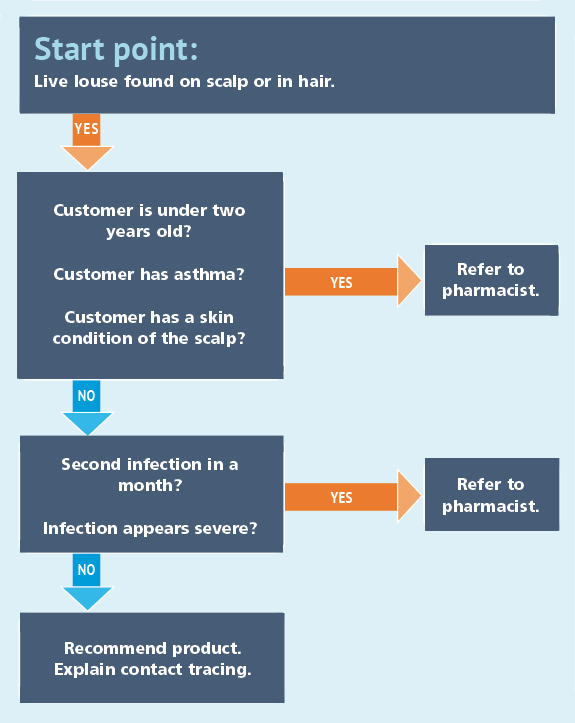 Whenever you talk to any customer, remember WWHAM:
Who is it for? Treatment might be needed by the whole family, so find out the ages of any children.
What are the symptoms? Find out if nits or lice have been found; treatments should only be used by people with live head lice.
How long have symptoms been present? Customers can easily be re-infected, so establish the source of the head lice.
Action already taken? Find out if the customer has already tried a product that didn't help. This will establish if there is resistance, incorrect application or they have simply been re-infected.
Medication? It is important to refer customers who are taking any other medicines or who have an established medical condition.
You don't have to ask these questions in order, and a customer might give you some of this information without you asking. As long as you get them into the conversation, you should be able to find out the information you need in order to make a recommendation.
The golden rule to remember is: if in doubt, refer to the pharmacist. Don't be embarrassed to ask for their advice as they have a lot of information about products and symptoms to hand that you may not be aware of.
Self care tips
• Examine children's hair regularly – use a detector comb as part of a weekly routine at home
• Check clothes and bedding regularly for black specks, which are likely to be head lice droppings
• Inform all close contacts if lice are found.
Exploding the head lice myths
There are many myths about head lice and how they are transmitted. Here are some facts to help set your customers straight:
Lice can only walk from person to person along hair strands – they cannot fly, swim or jump
Lice thrive on any kind of hair – clean or dirty
Short hair does not protect against head lice
Head lice are not just caught at school, close family and friends may be the source of an infection
A child with lice doesn't need to be kept home from school
Chemical insecticides should not be used as preventatives
Human head lice don't live on pets or other animals.
When to refer to the pharmacist
Children aged two years and under
A second infection within a month
If the person has a scalp condition
If the infection appears severe.
Signposting
For further information about head lice, see: