Would you recognise the signs if a young person was self-harming? And if you did, would you know what to do next?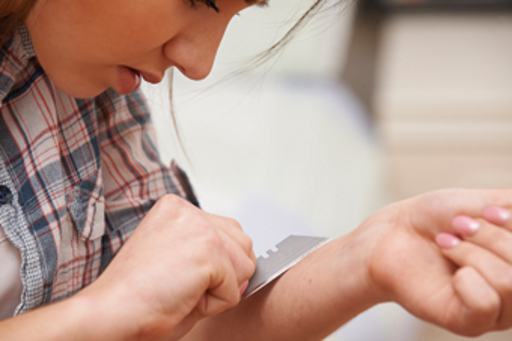 Many factors cause young people to self-harm. These range from the pressure to conform to gender stereotypes and social media commentary about 'ideal' body types, to the daily stresses of school and home life.
Those who self-harm can be very secretive about it, so while you may think you don't know anyone who is self-harming, you probably do. A new report from The Children's Society says that more than 100,000 children aged 14 in the UK are self-harming. The Good Childhood Report, an annual report on children's wellbeing produced by the charity in partnership with the University of York, found girls (22 per cent) were more than twice as likely as boys (9 per cent) to self-harm.
Children who were attracted to children of the same gender or both genders were also much more likely to self-harm – almost half (46 per cent) had done so – and children from lower-income households had a higher than average risk of self-harming.
Signs of self-harm
Self-harm is when somebody intentionally damages or injures their body, usually as a way of coping with or expressing emotional distress. It is linked to anxiety and depression, and in young people can also occur alongside antisocial behaviour, such as misbehaving at school or getting into trouble with the police.
Anyone who is self-harming will often try to keep it a secret because of shame or fear of discovery. It's often up to close family and friends to notice when somebody is self-harming, but there are things the pharmacy team can also look out for that indicate a young person may be hurting themselves.
As well as cutting and overdose, other ways people can intentionally harm themselves include:
Burning their skin
Punching or hitting themselves
Misusing alcohol or drugs
Deliberately starving themselves (anorexia nervosa) or binge eating (bulimia nervosa)
Excessively exercising.
"When talking to any patient I assess their physical wellbeing as well as focus on their tone of voice," says Boots pharmacist Shabbir Mellick. "In the first instance I look for cuts and bruises on the wrists or skin which is visible. There are also seasonal signs, for example if it's really hot outside and the person is fully covered up – I try to distinguish what could be a cultural or religious dress code from covering up cut marks."
Then there are other markers related to self-harm that's not about cutting which, Mellick says, are harder to spot. "You might notice low mood and tearfulness", he says, "as well as certain red flags in what the young person or their parents may tell you. These range from statements of self-loathing to blaming themselves for problems or thinking that they are not good enough."
Addressing the issue
If you feel your suspicions are well-founded, how can you start what is bound to be a delicate conversation about self-harm with your young customer or their parent or guardian?
Rick Bradley, operations manager for 'Mind and Body', an award-winning programme that supports young people around self-harm run by the drug and alcohol charity Addaction, admits that these can be "difficult conversations to have" and says it is normal to be a little apprehensive.
"We need to appreciate this could be a big moment for the young person and they may never have spoken to anyone else about this before but don't shy away from asking. This could be an opportunity to help someone in need."
"Ideally, conversations should take place in a designated consultation room to preserve privacy, and a chaperone can also be present," says Shabbir Mellick. Where there are visible wounds, Rick Bradley suggests you could start by saying 'I hope you don't mind me asking, but I saw your cuts and I just wanted to check whether you were okay. Is there anything I can help with?'.
"Show that you care and that you are happy to support them", he says. "Perhaps most importantly, really do listen to what they have to say; if someone is sharing personal information, it is important they know they are being heard, without criticism or judgment."
Parents and carers may feel equally uncomfortable about asking for support, he adds. "Many families we work with feel guilty, thinking they must be doing something wrong if their young person is self-harming", he says, "so show them empathy too. Allow them to talk about their own worries and reassure them that support is available, both for them and their child."
Signposting and advice
Fostering an open, friendly environment where customers can talk to you whenever they feel like it is a great way to build a relationship with any young person who comes in to your pharmacy, no matter why they visit.
However, be aware that people who self-harm can seriously hurt themselves, so it is important you also refer them to a GP to talk about the underlying issue and access treatment or therapy that could help them, from coping strategies to help prevent further episodes of self-harm, to taking antidepressants or other medication.
"The advice that people might instinctively want to give is simply 'stop' but this can do more harm than good," says Rick Bradley.
"Whilst not a positive coping strategy, these behaviours might be what helps that young person to manage their emotions at times of crisis. Taking this away without another supportive mechanism in place might just make things worse [so] speaking to their GP is a good starting point, and if the young person is comfortable with others being involved, collaboration between school staff, trusted friends and family members can help provide a strong package of care alongside the support of health professionals.
"Help is out there. The key is working with each individual to find what works for them."
Useful organisations
Spurred on by his own experience, Shabbir Mellick has built a mental health and wellbeing website (fitrahdesigns.com/mental-health) to support pharmacy staff to deal with their own, as well as their patients', mental health.
Other organisations that offer support and advice for people who self-harm, as well as their friends and families, include:
Samaritans: 116 123 (24 hours a day)
Mind: 0300 123 3393 or text 86463 (9am to 6pm on weekdays)
University of Oxford, Department of Psychiatry's Guide for parents who are coping with their child's self-harm
Parents Helpline – 0808 802 5544 (9.30am to 4pm on weekdays)