Revalidation Officer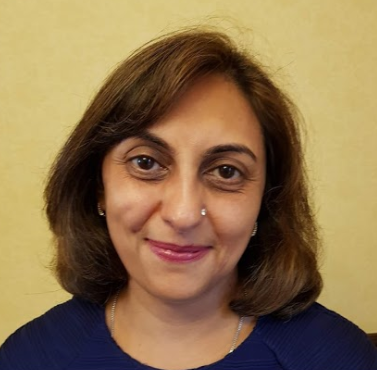 Sheetal started her career in pharmacy as a medicines counter assistant with Safeway's superstore and quickly decided to pursue her career as a pharmacy technician. Sheetal trained at St. George's Hospital and qualified in 1991. She then worked at various hospitals in different roles and gained a wide variety of experience.
She currently works as a Chief pharmacy technician, training and development at King's College Hospital NHS Trust and has been in her current role for the past 15 years. She is the lead for NVQL2 and L3 qualifications and acts as an Education Supervisor for the ACPT and Medicines Optimisation programmes. In addition, she also supports the clinical services team on the wards and the dispensary team. Sheetal thoroughly enjoys her role in training and finds it immensely satisfying when her trainees complete their qualifications and progress in their careers.
Sheetal has also worked with the General Pharmaceutical Council as a Fitness to Practice member and found the role challenging but extremely interesting. She is looking forward to her role as a National Officer revalidation with APTUK and hopes to contribute to her profession to the best of her ability.
Email: revalidation@aptuk.org
PTPTs Officer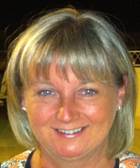 My career in pharmacy started in April 2001 at North Manchester General hospital as an Assistant Technician, before taking up a 2 year pharmacy Technician Trainee post qualifying in 2003. My career progressed quickly; I completed the Btec A1 Assessor Course, and was successful in securing a position as Senior Technician for Training & Education at what was then the Manchester Royal Infirmary in Central Manchester in 2006.

It was whilst in the Training & Education post I completed the V1 Internal Verifiers course, working peripatetically for my local FE College, gaining valuable skills and experience in the role. I also completed my Professional Diploma in Dispensing Self Checking.

One memorable training course I attended was the National Development Scheme for Pharmacy Technicians, known as the 'Morpeth Course' a thoroughly enjoyable and beneficial course which was a week's residential at the University of Durham.

During 2008 I was seconded into the role of a Project Manager representing Pharmacy when the Royal Manchester Children's hospital merged with the Manchester Royal Infirmary, The Royal Eye Hospital and St Marys Hospital for women and children, a unique and challenging role for a Pharmacy Technician.

I was invited to join the APTUK Education Strategy Group in 2013 and contributed to the development of the Pharmacy Foundation Framework.

I am now the Chief Technician, Lead for Training & Development and Operational Manager at the Oxford Road Campus at Manchester Foundation Trust, which incorporates the Manchester Royal Infirmary, The Royal Eye Hospital, The Royal Manchester Children's Hospital and St Mary's Hospital for Women and Children.
email: PTPT@aptuk.org
Pharmacy Technicians, Foundation Practice Officer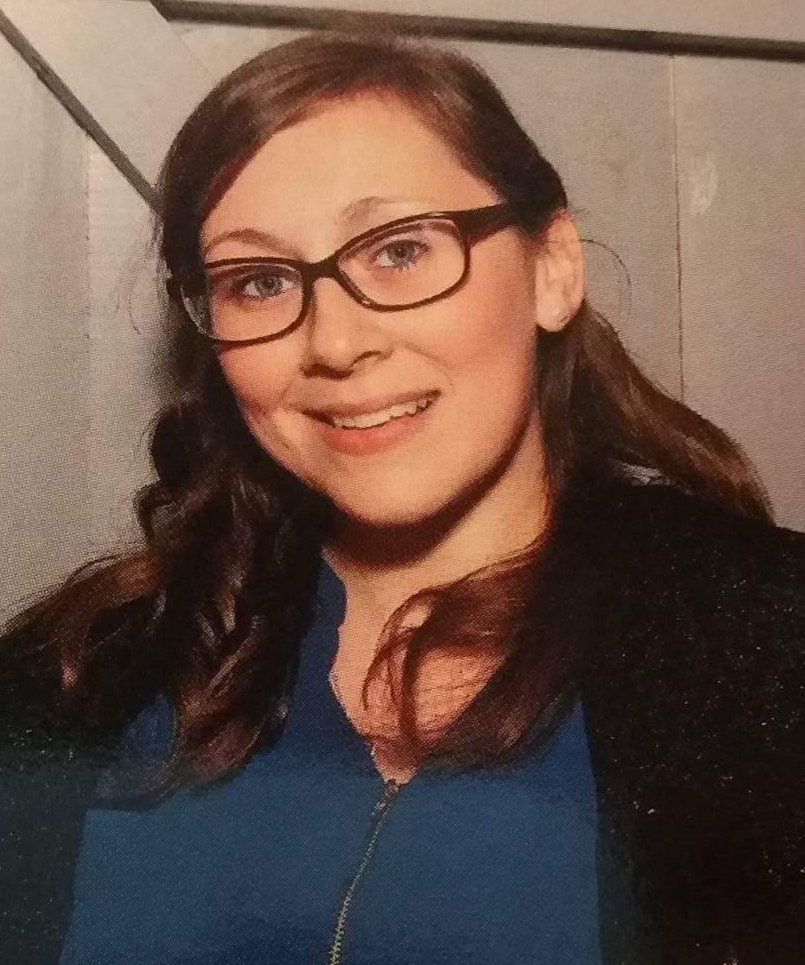 Amy began her pharmacy career in 2005 working in community pharmacy, where she trained as a medicines counter assistant and a dispenser before moving into hospital pharmacy in 2009. Amy trained as a technician and qualified in 2012, where she specialised in technicial services with Addenbrookes Hospital before returning to work as a rotational technician at Ipswich Hospital and gained her NVQ assessor award. Amy now works within academia and is programme lead for pharmacy education at West Suffolk College. Amy holds her Certificate in internal quality assurance and her Certificate in Education and training.
Email: foundationpractice@aptuk.org
Media Officer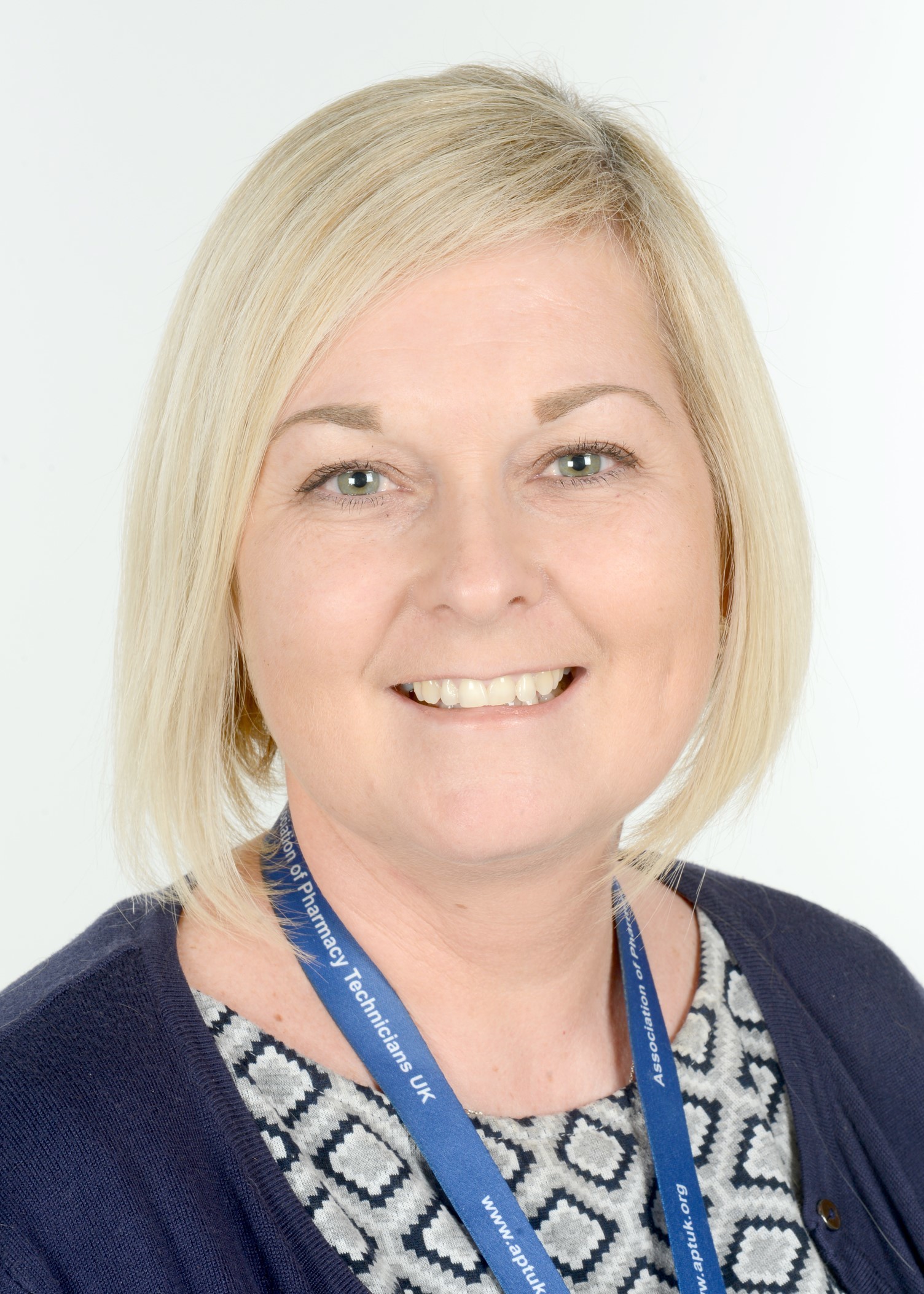 Andrea began her pharmacy career in 1985 and has gained a wealth of experience in a range of pharmacy disciplines. Andrea is currently Pharmacy Technical Services Manager at Lancashire Teaching Hospitals NHS Foundation Trust where she is responsible for service delivery and strategic development of Trust dispensaries; ward based Medicines Management services; procurement, stores & distribution; clinical trials; pharmacy interface service and education and training, and manages the contracted out outpatient pharmacy services. She has recently been appointed as Chair of the NW Chief Technicians Network. In her professional role and as an APTUK member, Andrea is an advocate for pharmacy technicians and all that they can contribute to patient care and the pharmacy profession. Andrea is proud to take on this role and looks forward to working alongside other National Officers, enhancing the profile of pharmacy technicians and the APTUK amongst professional stakeholders.
Email: media@aptuk.org
Editor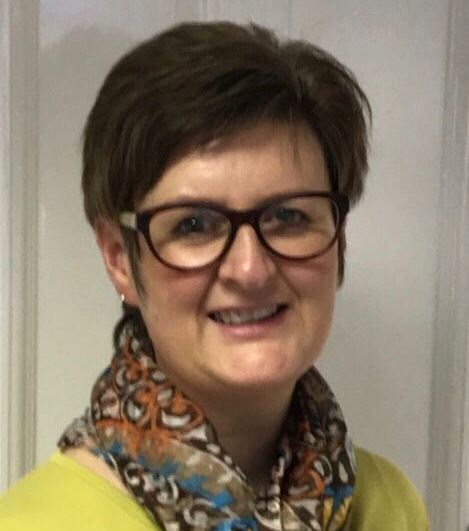 I left school to become a trainee in my local board, NHS Grampian where I qualified in 1986. I moved to NHS Lothian for the first 4 years of my pharmacy technician career. When I came back to my home city I had a different skill set and breadth of experience. My roles since have been varied from lead technician in radiopharmacy to dispensary manager where I led the automation of the dispensing process by installing robots. I am currently pharmacy workforce development facilitator within NHS Grampian. I support the development of the whole pharmacy workforce across all sectors to achieve the standards required to deliver safe and effective pharmaceutical care to patients. I enjoy seeing staff grow, flourish and celebrate success.
Email: editor@aptuk.org
Business Development Officer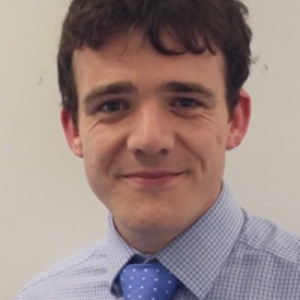 Oliver started working part time for a large multiple pharmacy whilst studying for his A levels. He qualified in 2014 whilst working for an independent community pharmacy, following 5 years in the sector. In 2016 he started working for an NHS Commissioning Support Unit based in Norwich. His work involves dealing with controlled drug incidents in Norfolk, Suffolk and Essex on behalf on the NHS England accountable officer. In this role he also manages the primary care rebates for 4 CCG's in Norfolk. At the end of 2018 Oliver reduced his time working for the NHS to 2 days a weak, using the remaining 3 days to work as an Education Supervisor for the Centre for Pharmacy Postgraduate Education. In this role he supports 30 learners across the East of England on both the Medicines Optimisation in Care Home and Clinical Pharmacists in General Practice training pathways.
Email: businessdevelopment@aptuk.org
Finance Officer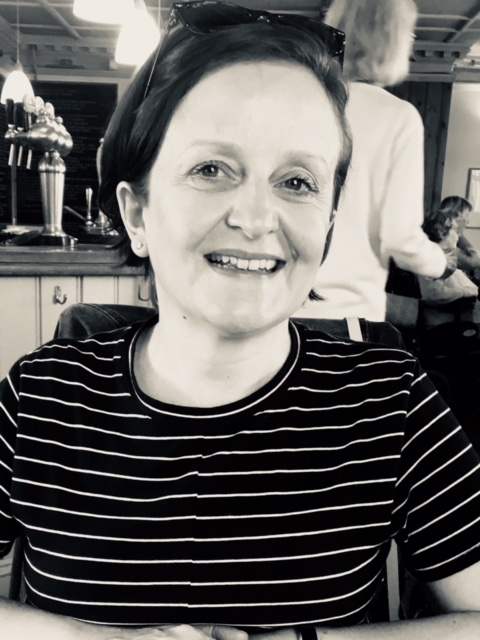 I started my pharmacy career after leaving school; working in a small retail pharmacy on the south coast while studying for my BTEC. Once qualified I quickly moved into hospital pharmacy at The Royal Sussex County for a few years before moving to London. I have worked in several trusts and in most areas of pharmacy, spending several years as a clinical pharmacy technician at St George's University Hospitals NHS Foundation Trust. This lead to an operational role managing ward based services during which time I was fortunate enough to study towards a Diploma in Management Studies.
I currently work at King's College Hospital NHS Foundation Trust as the Chief Technician for Operations; it's a big role and can be challenging at times but it can also be very rewarding and exciting; no two days are ever the same. I am proud to be a pharmacy technician and feel privileged to be part of the APTUK as a National Officer.
Email: financeofficer@aptuk.org
Membership Co-ordinator
Lynn initially joined Boots while studying for A levels & then trained with them as a dispenser - gaining the qualifications of the time - the City & Guilds & Apothecary Hall certificates. She continued working for Boots as a Community Pharmacy Technician for 38 years before leaving work (early retirement) in 2015.
During her career she has been responsible for all aspects of running a dispensary, undertaking pharmacy audits, & the training & development of Healthcare Assistants, Dispensers & Pre Reg Pharmacy Students.
Lynn also had involvement with pharmacy computer system software evaluation & development in the Nottingham Head Office & in New Zealand.
Latterly she moved to a Pharmacy Administration role involving pharmacist resource planning. This included pharmacist cover for 50 stores & the personnel work for over 100 pharmacists.
She joined APTUK as a student & has been a career long supporter of the aims of the Association.
Lynn says "I am very pleased to be contributing to APTUK as the Membership Co ordinator - bringing together my extensive pharmacy experience & my interest in computer systems, & planning & processing skills. Having recently left work I am very much enjoying being involved with pharmacy again".
Email: membership@aptuk.org
National Officer, Devolved Countries - Northern Ireland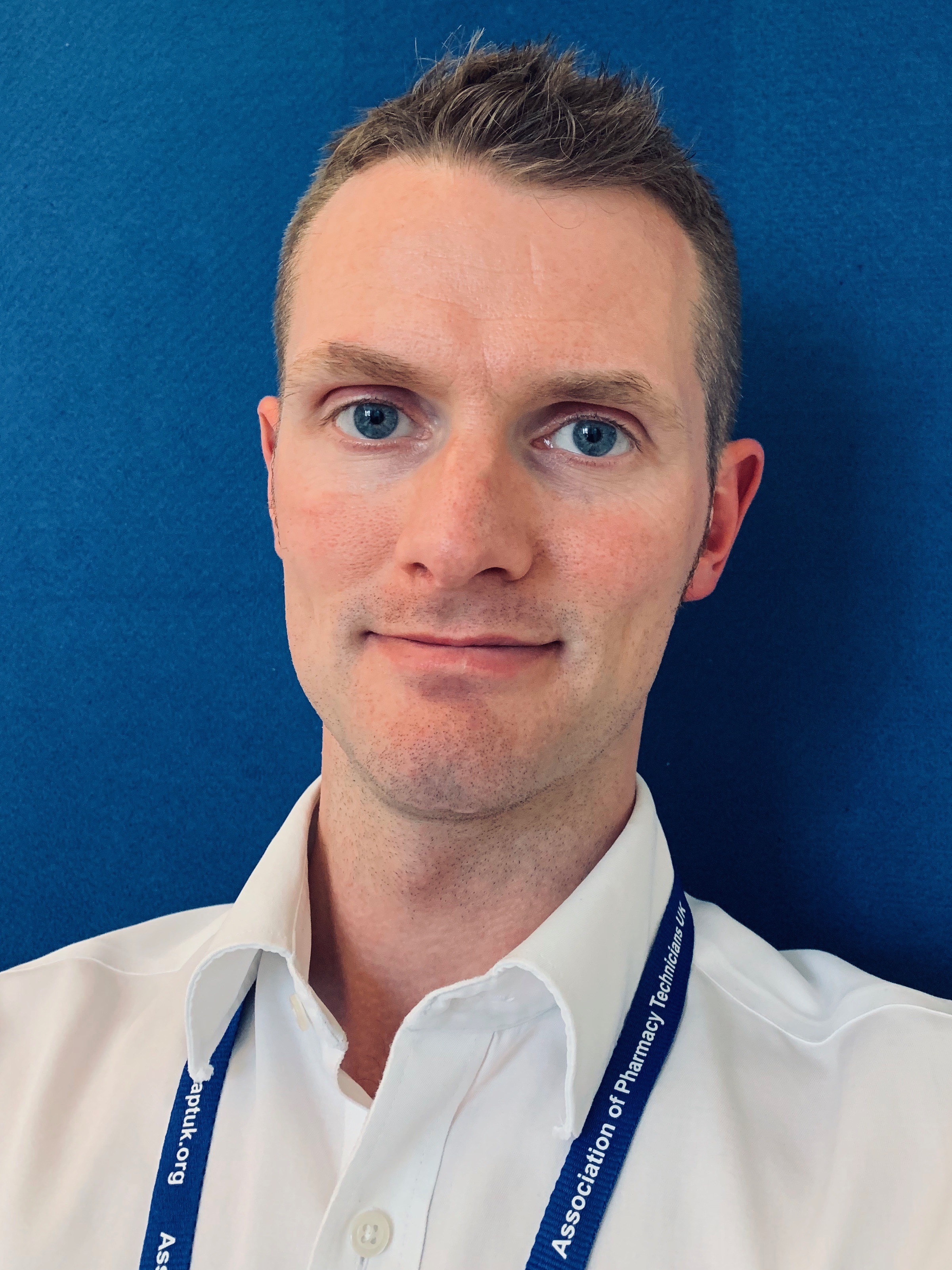 Warren began his career in Pharmacy in 1998 working for Boots the Chemists. In 2005 he moved to work in a busy independent pharmacy in Belfast. After gaining valuable experience working in community pharmacy Warren moved into hospital pharmacy in 2010 working as a rotational pharmacy technician in the Northern Health and Social Care Trust. Alongside gaining experience in various areas of hospital pharmacy, and in particular Pharmacy ICT, Warren completed his ACPT accreditation.
In early 2016 Warren was Lead Technician for Community Services where he was responsible for managing vaccine supplies to GP surgeries and schools. In December 2016 Warren decided to specialise in Pharmacy ICT and Robotics, taking up his current post as Lead Technician for ICT and Robotics in the Belfast Health and Social Care Trust. Warren has developed streamlined IT solutions for pharmacy which have been introduced across all Trusts in Northern Ireland.
As National Officer for Northern Ireland Warren is excited to represent APTUK in Northern Ireland.
Email: NI@aptuk.org