A controversial new report by the National Obesity Forum and the Public Health Collaboration is calling for a reversal in the way we approach obesity and healthy eating
The obesity epidemic is today's most pressing public health challenge. It costs the NHS £6 billion a year, and is a major cause of type 2 diabetes – a disease that costs a further £10 to £20 billion a year to treat and manage. The key to solving the problem lies in healthy eating, but a new report by the National Obesity Forum (NOF) and the Public Health Collaboration (PHC) claims that current dietary advice is not helping.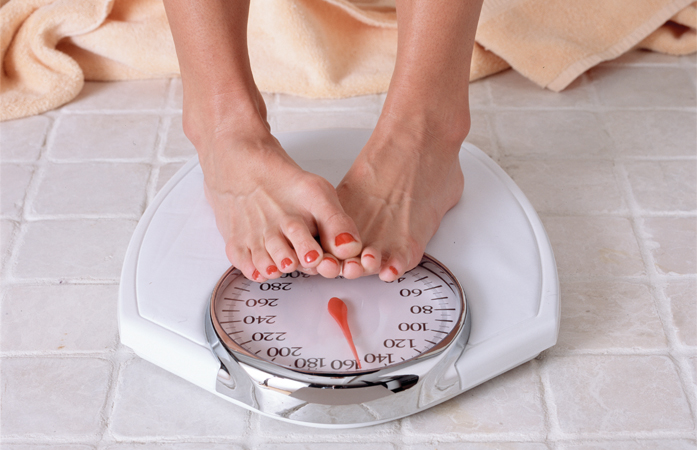 The report, Eat fat, cut the carbs and avoid snacking to reverse obesity and type 2 diabetes, argues that public health advice telling people to count calories, follow a low fat diet and focus on carbohydrates is contributing to obesity and diabetes, rather than preventing the problems.
Public Health England (PHE) and other health bodies have called the report irresponsible and misleading, and criticised the way the authors have "cherry picked" evidence and studies that back up their opinions. But Dr David Haslam, chair of the NOF, says: "Until the 1970s, the advice was to cut starch and eat healthy fats, and this was then reversed. The result was an obesity epidemic, which we're experiencing now."
Industry reaction
Responding to the report, Professor John Newton, chief knowledge officer at PHE, said: "Suggesting people should eat more fat, cut out carbs and ignore calories conflicts with the broad evidence base and internationally agreed interpretations of it." 
PHE's advice remains:
Base meals on starchy carbohydrates, especially wholegrain
Eat at least five portions of fruit and vegetables a day
Cut back on food and drink that's high in saturated fat, salt, sugar and calories.
A statement from PHE added that the report was not a systematic review of all of the relevant evidence: "It does not include an assessment of the methodological quality of the studies and should not be confused with the comprehensive reviews of the evidence that are produced by our process."
Douglas Twenefour, deputy head of care at Diabetes UK, said: "The Government's Scientific Advisory Committee on Nutrition considered a huge volume of evidence on carbohydrate intake last year and concluded that whether you get your calories from carbohydrates, proteins or fats, it has no effect on your risk of developing type 2 diabetes. We know that you can reduce your risk of developing type 2 diabetes by losing weight, and that is best done through a diet that includes foods such as vegetables, fruits, wholegrain, dairy, pulses, oily fish and nuts, and is low in red and processed meat, sugar and refined grains."
Dr Mike Knapton, associate medical director at The British Heart Foundation (BHF), also questioned the report, saying: "This report is full of ideas and opinion, but it does not offer the robust and comprehensive review of evidence that would be required for the BHF to take it seriously."
Ayela Spiro, senior nutrition scientist at the British Nutrition Foundation, believes that obesity and diet are complex issues and so suggesting that a healthy diet should be high in fat, with no consideration of calories, "is not based on sound science" and is detrimental to the work going on to combat our obesity crisis. "The causes of obesity are complex and the type of diet that is best for losing weight has been widely debated for many years," she said. "However, balancing energy intake with energy expenditure is the fundamental determinant of weight maintenance. The success or failure of weight loss diets depends on how well people adhere to them and this goes beyond their nutrient composition to issues of palatability, convenience, satiety and personal beliefs."
British Dietetic Association, dietitian and diabetes spokesperson Paul McCardle agreed, saying: "We know that a number of different approaches work for weight loss. Basically, you need to consume less energy than you expend, but the amount of carbohydrates consumed is not the determining factor. While some people with type 2 diabetes will find a low carbohydrate diet helpful, there is no evidence that eating more saturated fat will protect a person from cardiovascular disease.
"I don't think telling people to avoid all low fat, low cholesterol foods is helpful, though pointing out that you still need to check the sugar content on the labels is an important point to make. Dairy foods, on the whole, are protective against diabetes, but they don't have to be full fat versions to be helpful.
"The danger of telling people to stop counting calories and eat more fat is that they might eat lots more saturated fat but continue consuming starchy carbohydrates as well, resulting in weight gain and increased diabetes risk. We would rather talk about healthy dietary patterns than focus on specific foods and calories."

Report recommendations
The controversial Eat fat, cut the carbs report recommends a complete overhaul of dietary advice and public health messaging, and proposes 10 points on which to base "effective and important changes":
1. Eating fat does not make people fat: According to the report, evidence from multiple trials has shown that a higher fat, lower carb diet is better for weight loss and cardiovascular disease risk than a low fat diet. "If you eat healthy fats then you won't need a lot of calories. Healthy fats from sources like avocados will make you feel full," says Dr David Haslam, chair of the National Obesity Forum. "What we don't want is for people to eat more healthy fats but continue eating the starchy carbohydrates, as this will result in too many calories and weight gain. We need to redress the balance." UK guidelines for weight loss should advocate a low refined carbohydrate, healthy high fat diet based on non-processed foods, adds the report. 
2. Saturated fat does not cause heart disease: Current guidelines wrongly focus on total fat and saturated fat content instead of specific food sources and fatty acid subtypes, claims the report. "The most natural and nutritious foods available – meat, fish, eggs, nuts, seeds, olives, avocados – all contain saturated fat," it says. "The continued demonisation of omnipresent natural fat drives people away from highly nourishing, wholesome and health promoting foods."
3. Avoid processed foods labelled 'low fat' and 'low cholesterol': Saturated fats should not be replaced with omega-6 vegetable oils, as they do lower cholesterol, but not cardiovascular mortality. Instead, the report recommends shifting focus away from total and low density lipoprotein (LDL) cholesterol as markers of cardio health. 
4. Limit starchy and refined carbohydrates to prevent/treat type 2 diabetes: People with type 2 diabetes have profound carbohydrate intolerance and public health messages should reflect that, says the report. Dr Haslam acknowledges that this will polarise opinion and says: "It's a big change from the accepted way of treating diabetes, so it will take time to accept."
5. Optimum sugar consumption for health is zero: "While we welcome the recent World Health Organization maximum limit recommendations, public health messaging should emphasise the fact that sugar plays no role in a healthy diet," the report says. It also recommends that sugar should be considered a condiment or additive and that added sugar should be recorded in numbers of teaspoons on labels.
6. Industrial vegetable oils should be avoided: Until recently, pure vegetable oils were not a natural part of our diet. "Omega-6 rich vegetable oil (such as sunflower and corn oil), linked to the increased risk of death, coronary heart disease, and cancer in humans as well as the growth of cancer in animal models, cannot be considered safe," says the report. "Indeed it can barely be considered a food."
7. Stop counting calories: The report argues that calories from different foods have distinct metabolic effects on the human body. "We've been calorie counting for several decades now and it clearly isn't working or we wouldn't be in an obesity epidemic," says Dr Haslam. "If you eat healthy fats and cut carbohydrates you won't be as hungry and will naturally eat less, with no need to count calories." 
8. Exercise won't cancel out a poor diet: Doing more exercise to burn off excess calories consumed is not the answer to losing weight, says the report. Dr Haslam claims that if a person needs to go to the gym to lose weight, their diet is wrong. "You shouldn't use exercise to remedy a poor diet," he says. "Exercise is an important part of the healthy living equation, but it's not the whole message."
9. Stop snacking to lose weight: Snacking has become prevalent since the 1970s, which coincides with the rising tide of obesity. "Eating continuously does not allow the body to digest and use some of the foods that we eat," says the report. "Reducing the frequency of our meals will pay enormous dividends in weight loss efforts. Eliminating snacking (especially after dinner) and adding back periods of fasting are simple ideas practiced widely before the obesity epidemic."
10. Educate healthcare professionals: The report advocates that all healthcare professionals should be educated in evidence-based nutrition so that they can provide appropriate advice and support to eliminate the root cause of disease and health problems.
Healthy eating: conflicting guidelines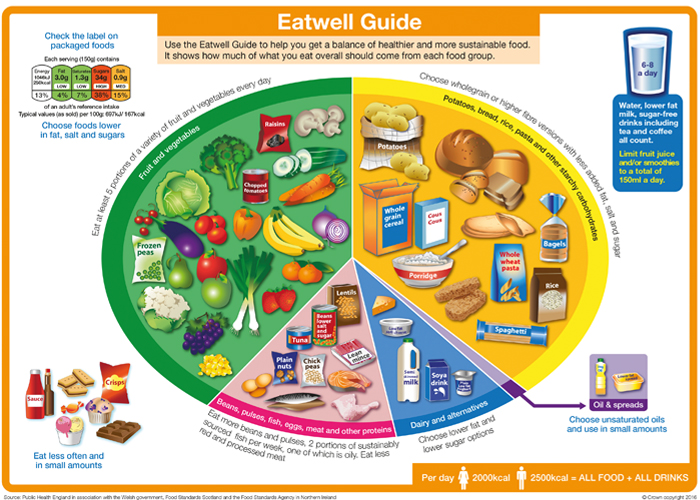 The 'Eatwell Guide' was re-issued by Public Health England this year, in association with the Welsh government, Food Standards Scotland and the Food Standards Agency in Northern Ireland. It puts greater emphasis on fruit, vegetables and starchy carbohydrates, as well as limiting sugary foods and drinks.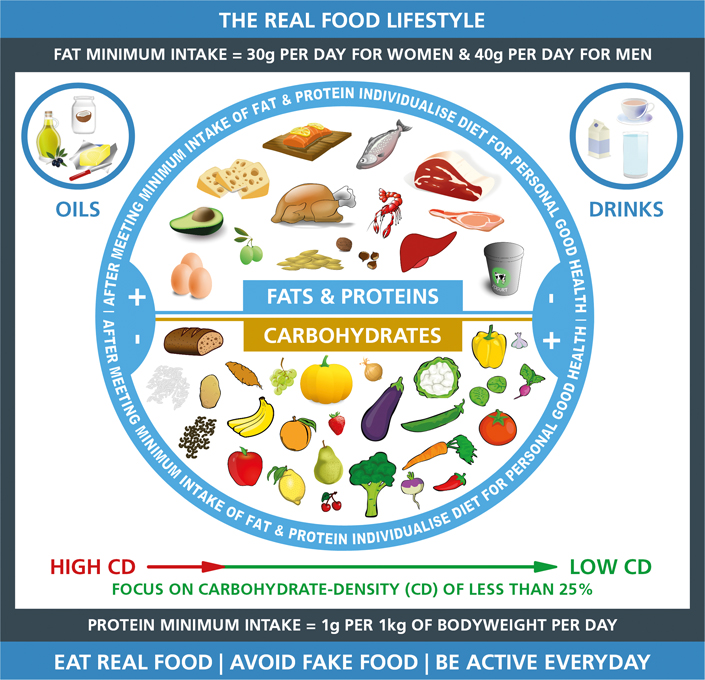 As part of its Healthy Eating Guidelines and Weight Loss Advice for the United Kingdom report, which preceded Eat Fat, Cut Carbs,  PHC's 'Real Food Lifestyle' proposes a 50:50 split between fats and proteins and carbohydrates (mainly from fruit and vegetables rather than starchy sources).
This report is full of ideas and opinion, but it does not offer a robust and comprehensive review of evidence