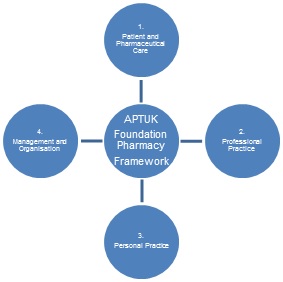 Professional Development Frameworks have become increasingly useful in professional development over the past decade alongside the increased focus on supporting healthcare professionals in continuing to advance their practice and/or develop special interests. This evidence-based framework contains a structured assembly of behavioural competencies, driven by the need for transparency in the training, development and professional recognition of healthcare professionals, whilst ensuring the building blocks of initial career development (foundation practice) are in place. They have been utilised globally, and have been adapted and adopted from different sources to provide a common goal – development of professional skills and behaviours, focussed care and healthcare values. In addition they can be used for general Continuing Professional Development. To develop the pharmacy profession, in particular foundation practice, developmental frameworks currently support the delivery of pharmaceutical care, helping pharmacy technicians identifying their own learning gaps and providing them with a structured career progression. They usually describe a seamless evolution from pre registration trainee, to foundation level practitioner to advanced practitioner.
The APTUK Foundation Pharmacy Framework is a Framework for professional development in pharmacy practice at foundation level.
The APTUK Foundation Pharmacy Framework is comprised of the following components or clusters:
Patient and Pharmaceutical Care
Professional Practice
Personal Practice
Management and Organisation
Each cluster has been designed to provide competences that reflect generic roles and responsibilities undertaken by pharmacy technicians who are in the early years (foundation) of their careers. It is designed to build on the competences that pharmacy technicians have already been assessed against in the entry qualification. In my opinion this is the first piece of work that will support Pharmacy technicians in the one of two years post registration, covering a range of practice areas and home countries (Wales and Scotland)– Tech services, CCGs, Dispensing Drs, Community, Hospital.
APTUK are working with providers of other pharmacy technician framework developers to ensure that Frameworks that we are already familiar with such as Accuracy checking (both dispensary and technical services) and Medicines management will also be mapped into a career.
It was essential to get the core competences agreed and developed first. The APTUK Foundation Pharmacy Framework is a working document so there is a requirement to review it bi-annually, clusters will be added, removed or revamped to make sure its reflects real working practice. The education work stream will keep members updated through this website, email and branches.
The development of the framework also gave us the opportunity to make sure some of the behaviours we need to support patient care and compassion (post Francis) are also captured.
The framework is available for any pharmacy technician to use to support development of best practice for patients and services. To view the framework please click here.
However, as an APTUK member you will have access to resources including case studies, teaching sessions for branches and a supporting handbook - available to members only – a real benefit so start spreading the word to those non-members who may be starting to think about the support they will receive and where they may get it from?
You only have to look at the uptake of the RPS frameworks and faculties by Pharmacists and their employers to get a sense that demonstration of competence against a framework will be the natural progression for pharmacy technicians – The GPhC are closely looking at revalidation as a model and frameworks link closely to this- so by being a member of APTUK you are ahead of the game.
APTUK Champions
Would you like to know how the APTUK Foundation Pharmacy Framework can support your;
career development, enhance your skills?
be a tool to provide evidence of your competence, knowledge and skill?
support you with a change in practice/return to work?
APTUK Champions are self-motivated pharmacy technicians with more than 2 years' experience and knowledge to help support early years Pharmacy Technicians using the APTUK Foundation Pharmacy Framework (FPF).
Contact your APTUK Professional Development Team or any APTUK National officer to find out more details on where you can find your local APTUK Champion.
REMEMBER – you must be a member of YOUR professional leadership body to access support.